The Origins of St. Paul's Church
The early German immigrants settled in Germantown, Whitemarsh and Skippack in the years between 1710 to 1712. Among them were 35 members of the Reformed faith. The full immigration into the Perkiomen Valley did not begin until the second decade of the eighteenth century. By 1727 there were enough Reformed members in the Goshenhoppen area to hold a communion service.
"To every thing there is a season, and a time to every purpose under the heaven:A time to be born, and a time to die; a time to plant, and a time to pluck up that which is planted; A time to kill, and a time to heal; a time to break down, and a time to build up; A time to weep, and a time to laugh; a time to mourn, and a time to dance; A time to cast away stones, and a time to gather stones together; a time to embrace, and a time to refrain from embracing; A time to get, and a time to lose; a time to keep, and a time to cast away; A time to rend, and a time to sew; a time to keep silence, and a time to speak; A time to love, and a time to hate; a time of war, and a time of peace."
– Ecclesiastes 3:1-8 (KJV)
In 1856, Reverend Peter S. Fisher was called to Tohickon Reformed Church (Indian Creek, Tohickon and Charlestown-Trumbauersville). He organized congregations in Sellersville, Bridgetown and Leidy's. The Reformed "Congregation" in Sellersville met in an old schoolhouse on Walnut Street together with a Lutheran and Mennonite Congregation.
Shortly after the Civil War (1868), Three acres of land were purchased from William Schlichter by the Lutheran and Reformed "Congregations". Two acres were divided into cemetery lots and offered for sale, the proceeds directed towards erection of a Union Church (where St. Michael's Lutheran Church now stands).
On May 21, 1870, permission was granted by Goshenhoppen Classes to organize a Reformed Congregation in Sellersville. On January 8, 1871, officers were elected and a congregation was declared "regularly established." (This is our date of origin).
The aftermath of the Civil War brought on a serious economic depression throughout the country and it wasn't until well into the 1890s (this period of economic recovery is often referred to as the "Gay Nineties") when this fledgling Reformed Congregation had saved enough funds to build their own church.
On July 23, 1900, St. Michael's Lutheran and Reformed congregations voted to separate all joint property. On November 1st that same year, the Reformed congregation of St. Michael's sold their half interest to the Lutheran congregation for $2,450.00.
By April 8, 1901, Easter Monday, ground was broken on a lot on Green and Penn Streets donated by William Schlichter. On July 21, the cornerstone was laid for a new church.
On May 18, 1902, the new church building was dedicated to the "Service of the Triune God" and named St. Paul's Reformed Church. The total cost was $20,000.00 (considered to be the most expensive church in Bucks County at the time!).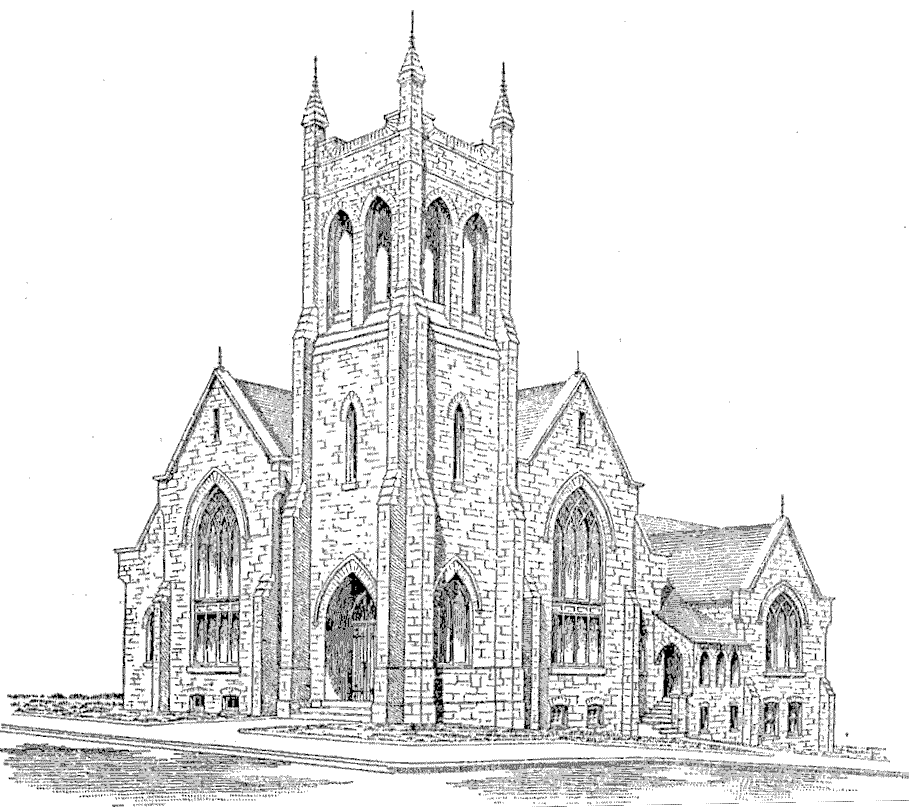 Pen and ink conceptual drawing rendered by the architectural firm of A. Oscar Martin of Doylestown.